Finding the perfect location for your Marquee
The site location is one of the most important decisions when hiring a party tent or Marquee.
When considering the placement of the party tent or Marquee, try to select a suitable area. We can install on all flat level surfaces, including grassed lawns, asphalt, concrete, wooden decking, paving, or any type of tennis court surface – no pegs.
If staking is required, be careful of the unseen underground factors that may affect the Marquee placement, ie sprinkler systems, gas and water lines, sewage pipes, telephone and electrical conduit or wires, etc.
In most municipalities the local utility companies will visit the site and mark the locations of their pipes, wires etc.
The renter is responsible for the locating and marking of any underground utilities or services so as not to cause damage or injury to Having a Party's employees, the hirer, property, or guests.
The renter is responsible for obtaining all necessary permits required by council, city, and/or state.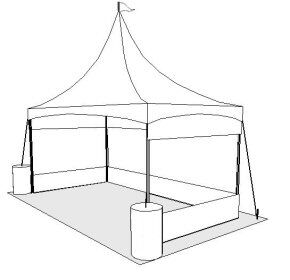 At least 50cm of clearance is required around the perimeter of the Marquee for staking or weighting.
Example: The Marquee pictured on left is 6m x 3m, but the floor space required (shaded grey) to allow for pegs or weighting is 7m x 4m.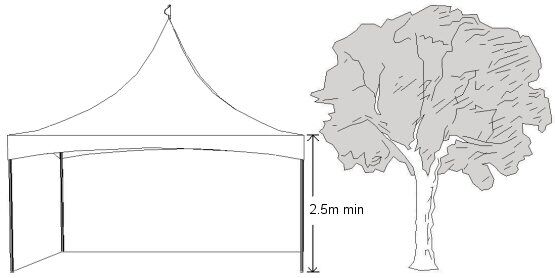 The height of our Marquees must be considered when selecting a location. The eave height is 2.5m and requires at least this amount of overhead clear space. Centre peak height can reach over 6m on Matrix Series Marquees so avoid low hanging tree branches, roof eaves, etc. Power lines require at least 5m clearance from any Marquee structure.
If electrical power is required to the tent for lighting, etc. try to locate the Marquee in an area where power can be easily accessed and run to the tent. It is preferred that our delivery vehicle can have access to the Marquee location. If not, we need at least firm pathways leading to the site, due to the heavy nature of the equipment required.
WARNING This product has been manufactured for use as a temporary structure. For the safety of occupants, evacuation is recommended if threatening or extreme windy weather occurs, or if there is any doubt concerning the safe use of this product. Marquees are made from water resistant material. They are not guaranteed water proof.